If you want to listen to the audio version of THE GUIDE ON HOW TO PITCH TO JOURNALISTS, press play here.
If you want to win press coverage then you need to master two things: how to come up with a killer pitch and how to contact the media about a story in the correct way.
That's why we've put together this how to pitch journalists guide, to walk you through the following:
How to come up with media pitch ideas
The different types of media pitches and press coverage
The do's and don'ts of writing a media pitch
An email pitch to journalist example
How to contact news reporters
And in addition to this guide, you can also download our Pitching to Journalists Toolkit, which contains 6 sample email pitches to journalists, as well as an email pitch template.
Part 1 – How to come up with a journalist pitch
What is a pitch in journalism?
Okay, I'm starting with the basics here! But this is important context. PR remains a bit of a mystery to many people and the thought of trying to win media coverage can be downright bewildering.
So here's our definition:
A pitch is a speculative approach to a journalist, where you offer something of value, with the intention of it winning press coverage for you or your company.
What you offer to a journalist will determine the type of pitch you send. I'll walk you through this below.
How to come up with a killer pitch idea
One of the questions we get asked the most is how to get a journalist to write about you.
It's no use simply pitching any old thing to journalists. If a pitch offers no value, it'll just end up in the trash folder. So how can you prevent this fate from befalling your pitches?
It takes clearly defined business goals, a well-crafted narrative and expert knowledge of your industry and current trends, as the below graphic demonstrates.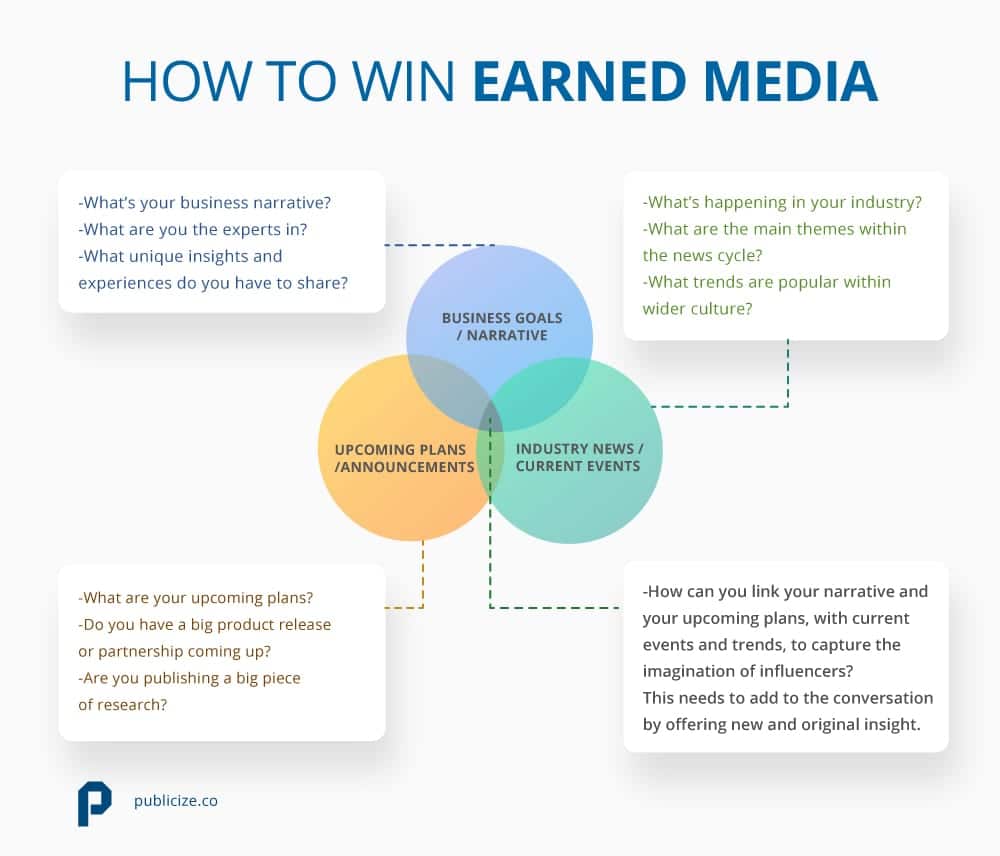 Ultimately – you need to give more than you take. What we mean by this is if you just pitch blatantly promotional stuff, such as why your startup is going to disrupt your industry, you're not going to win press coverage.
Always bear in mind: it's a journalist's job to write stories, not promote products.
So with this being the case, you need to offer journalists news, stories or ideas that are unique and present real value to their readers.
Finding your hook
Every pitch needs a hook. This is the way you present your news, story or idea so that it stimulates interest and demonstrates its newsworthiness.
The hook you develop will depend on what it is you're pitching and the industry you're in. Here are some common examples to help you develop yours:
Provide a fresh perspective: the media love reporting on a trending topic, by providing a fresh perspective you'll stand out by offering something new.
Provide new insight: perhaps your user data has provided startling insight into an established topic.
Tell the other side of a story: provide a counter-argument to the prevailing narrative on a popular topic, backed by data, results or experience.
Challenge the orthodoxy: upend conventional wisdom or kill a sacred cow with your views and opinions.
Break new ground: present data or research results on a niche area or subject matter that hasn't been reported on before.
The following section helps to place all of the above into context, by providing examples of the types of pitches we send to journalists.
The different types of PR pitches to journalists
We categorize our journalists' pitches based on the type of story, news or insight they're offering. Here's the list of our most common pitch types.
Guest article submission*
Used when pitching for a guest post spot in a publication, which is talking about a general topic relevant to your industry.
---
Actionable insights
Used when pitching actionable and practical insights which are based on your own experience and expertise.
---
Breaking news hook
Used to jump on a breaking news story that's relevant to you or your business by pitching to offer expert opinion and insight.
---
Sector overview
Used when pitching to provide an overview or analysis of something that's happening at a high level in your industry.
---
How X will help Y
Used when pitching a story, advice or insight that provides a solution to a known problem.
---
Product review
This one's nice and simple. It's used when you're pitching your product to professional reviewers.
*When pitching for a guest article (otherwise known as a guest post), make sure you only pitch to outlets that accept guest article submissions and that you pitch to an editor, rather than a journalist. Pitching these to outlets that don't accept them is a sure way to ruffle feathers.
What about press releases?
Allow me to get technical for a moment. A press release is a medium for writing and transmitting information about a company announcement. But what does this actually mean?
Well – if you have something to announce (for example, securing funding or signing a new partnership), then you can write and email a press release to journalists. They can then publish this in its entirety or write it up into an article.
But, as you've no doubt already figured out, this is only useful on those occasions that you have something newsworthy to announce. And if you're a startup, this may only be a handful of times a year.
That's why you need to use the above types of pitches to win press coverage when you have no company announcements to make.
The different types of press coverage
There's no one type of press coverage that PR generates. Here are the main types of coverage that a successful pitch can generate:
Guest article/Guest post
When you write an article that's published by a publication under your name.
---
Expert commentary
When you provide a comment for a story that's attributed to you.
---
Guest appearance
When you appear as a guest, such as on a podcast
---
Profile
When a journalist writes a profile about you.
---
Interview
When you get a feature interview in a publication, such as a trade journal.
---
Product review
When your product is professionally reviewed by a publication.
Being aware of these different types of press coverage will help you define your objectives and better articulate the offer you're making in your pitch.
How to find journalists
Once you've come up with a killer idea for a pitch, the next step is to find the most relevant journalists to send it to.
There are two important things to bear in mind here:
Select journalists writing for publications that your target audience read. There's no point in winning media coverage for the sake of media coverage. It has to form part of a wider PR strategy for it to provide value
Narrow it down further by selecting the journalists that have previously written about the subject area that your pitch relates to
This can sound time-consuming, but it needn't be when you apply the correct process and the right tools. Our guide to finding journalists' contact details provides a step-by-step guide on how to do this.
Part 2 – How to contact news reporters, journalists, and the press
How to write a news pitch
Now comes the actual outreach. This is where you need to condense your great idea into a short and concise email, that will grab the attention of reporters and demonstrate its value to them. So, how to write a press enquiry?
This is what you need to keep in mind, when writing your pitch:
Be clear on your objectives
Before you type the first word, be sure of what it is you're offering to a journalist and the type of press coverage you're trying to win. Your pitch needs to clearly explain what it is you're offering, why this is of value to the journalist and the type of media coverage you're seeking, so if you're not certain on this, your email is going to lack coherence and purpose.
Don't be promotional
Remember, it's a journalist's job to tell stories – not promote products. I hate to say this, but most journalists don't really care about your product, and this why you need to be far more creative when trying to win earned media.
Personalize it
Pitches to journalists are often based on a template (hey, we're even giving some away with this guide!). But make the effort to personalize each one you send out. Use the journalist's name in the subject line and your opener. And if you can, include references to any previous related articles the journalist has written, linking these to your pitch.
Keep it short
Make sure every sentence serves a purpose and that the email to the journalist is free of waffle. Break up any large paragraphs with bullet points, to call out the key points of your offer.
Include your social proof
Your social proof is the evidence of your credibility. It's no use just saying in a pitch that you're an expert on the subject, you have to provide evidence of this. This can be a via a brief summary of your resume or links to other other press coverage that you've won.
Thread your hook throughout
Make sure you build upon your hook throughout your pitch. The introduction, context, social proof and the offer all need to support the overall hook of your pitch. Our journalist email pitch example in the following section illustrates how to do this.
Email pitch to journalist example
Below is a sample email pitch to a journalist. This is a breaking news hook email pitch that's jumping on a partnership announcement made by Affirm and Walmart. It's offering a perspective on how fintech startups are impacting traditional banks, and what they can do to fight back.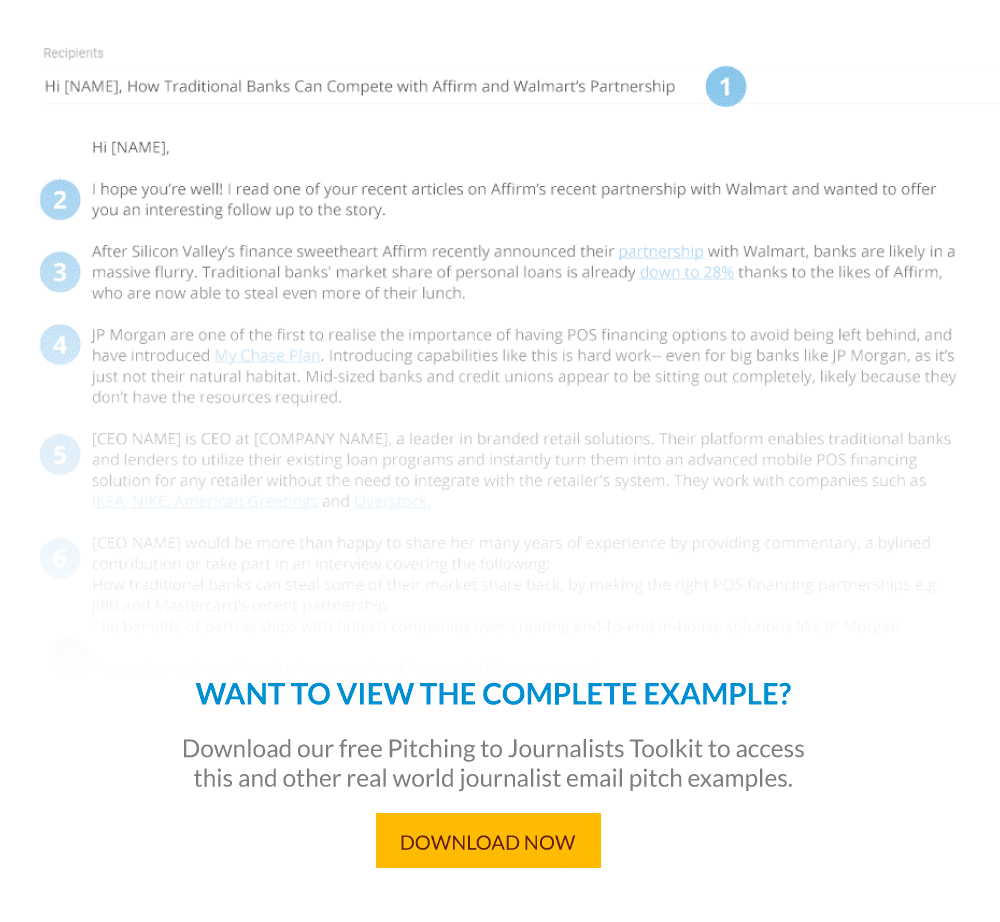 1. Subject
Use the subject line to grab the journalist's attention. Call them out by name, then explain the subject of crux of your pitch
In this example we lead with the journalist's name, then explain what the subject of the pitch is about – which in this case is a breaking news hook pitch
2. Introduction & personalization
Use the first paragraph to provide context of what it is your pitching and to personalize the pitch by relating it to something the journalist has recently written about.
In this example we start the pitch by referencing a recent article that the journalist wrote, which is on the topic of this breaking news hook pitch.
3. Context and angle
Use the next paragraph to start building your hook. Always support this with data points and links to other articles or research that supports your angle.
In this example our angle is built around how traditional banks are feeling the pressure of fintechs and how this is eroding their market share. We also support this with a relevant data point.
4. Building out your angle
Use the following paragraph to fully flesh out your angle, if required.
In this example the previous paragraph posed a problem, while this paragraph suggests a partial solution. This partial solution is then related to the "offer" at the end of the pitch.
5. Company/personal details and social proof
Now comes the introduction of the person offering the story and their company. Use this as your social proof, to explain why you're qualified to talk about the subject your pitching.
In this example, as the offer is on behalf of a CEO at a fintech company, we've provided an explanation of what the company does, to demonstrate why the CEO is qualified to talk about this topic.
6. The actual offer
And here is the actual offer to the journalist. You need to explain exactly what it is you're offering, which you can do here.
In this example we're offering commentary, a bylined article (which is another term for a guest article) or an interview. We then provide details of the topics that this person can provide input on.
When's the best time to send a pitch to journalist
Based on our own research, we find that the best time to contact a journalist is either Tuesday or Wednesday, between 8am and 9am.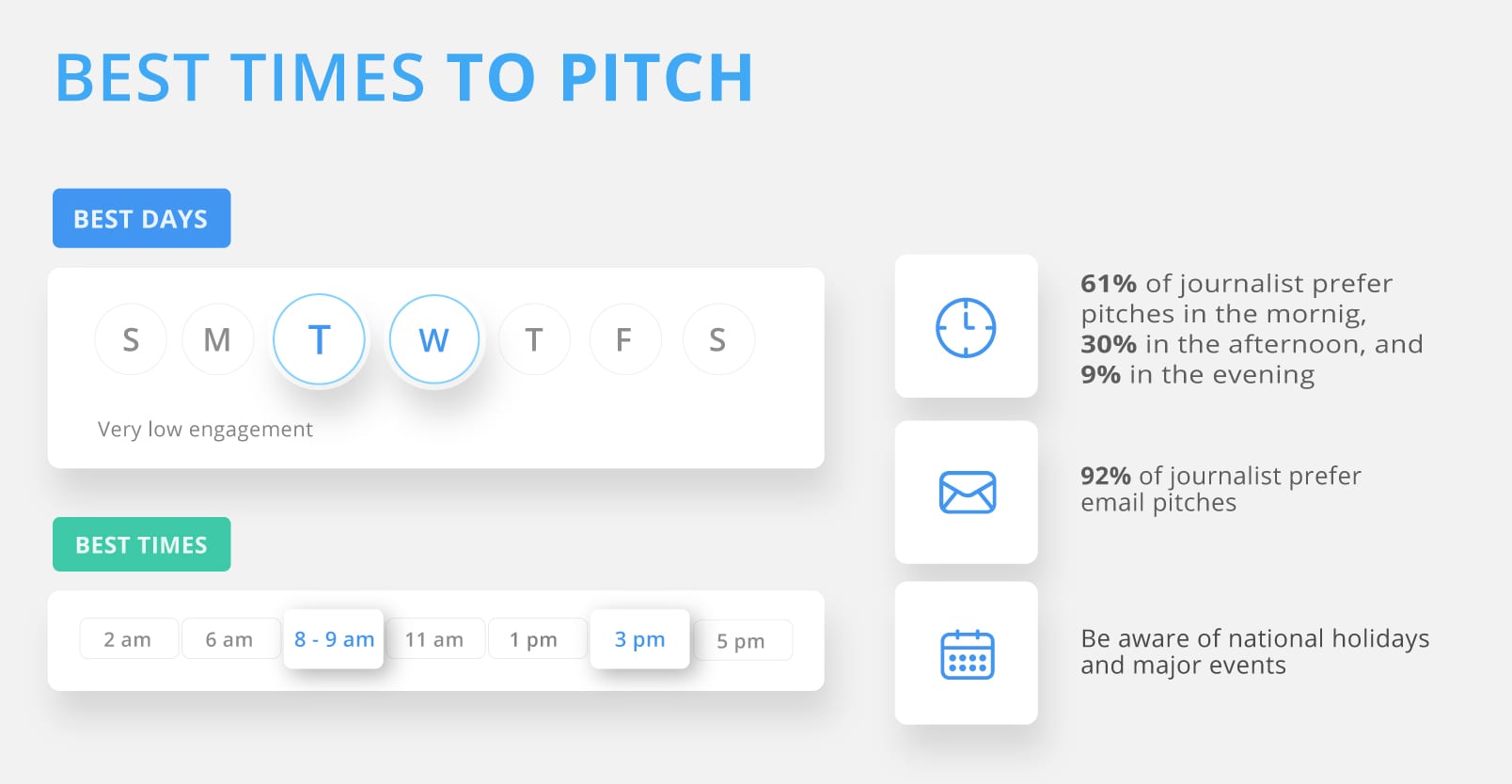 Pitching to journalists etiquette
When pitching to journalists, make sure you stay on their right side by following some basic etiquette.
Make sure your pitch is relevant to the journalist's beat. Journalists can understandably get very annoyed when they receive a pitch that's completely irrelevant to them.
If you're pitching for a guest article spot, make sure the outlet actually accepts these submissions. Check their editorial policy or see if any recent articles are by guest authors.
If you're pitching for a guest article spot, send your pitch to an editor instead of a journalist. It's an editor's job to green light a guest article, not a journalist's.
Don't contact two journalists working for the same publication at the same time. Although there's no harm in pitching to a journalist at the same publication if a few weeks have passed since you pitched to the first journalist.
If you're offering your pitch as an exclusive, send it to journalists one at a time. State how long the offer stands for; this can be from 24 hours to a few days.
Checked Twitter handles to see if journalists are open to pitches. Some journalists will state on their Twitter handle that they're open to pitches, while others will state that they're not – don't pitch to these journalists.
Just send one chaser. It's fine to send a follow-up email to a journalist, a day or two after you emailed the pitch, but anything further won't be appreciated. Keep it brief and don't be pushy. Something along the lines of "I know you're busy, so just touching base to see if you've had a chance to look at the below pitch or if you have any questions on this".
Conclusion
Now you've read our Guide on How to Pitch to Journalists, you know how to come up with ideas to win media coverage and how to contact the press the right way.
And we've made actually doing this even easier with our free Pitching to Journalists Toolkit. The toolkit provides everything you need to start writing pitches and contacting journalists, including:
6 real-world journalist email pitch examples
Editable email pitch template Word doc
Journalist pitch tracker Excel doc
---
Chat With Our PR Specialist!
Interested in finding out more about how we can design a PR strategy to support your business goals? Send us a note using the below form and our PR specialist will be in touch to arrange a chat.