Effective content strategies don't rely on one single tactic. Generating qualified leads demands you to frequently craft and publish valuable content, and to come up with a strategy for promoting it.
Under the umbrella of PR, there are different types of media that get traditionally involved in the process of establishing the best strategy:
Paid media

Earned media

Shared media

Owned media
When it comes to PR, the tangible output of media PR is to win 'earned media'. Earned media through PR has no direct cost, although sustained time and effort is required in order to build media relationships and to produce content and material. Here are three examples of tangible earned media achievements:
Getting your name in print

Having a major publication write about your startup or company

Appearing in the prime time news to talk about your products or services.
Types of Earned Media
As you can see, within the PR Landscape, by earned media we mean any channel or medium of influence that has some form of editorial control. Here are some of the main categories and types of earned media within each: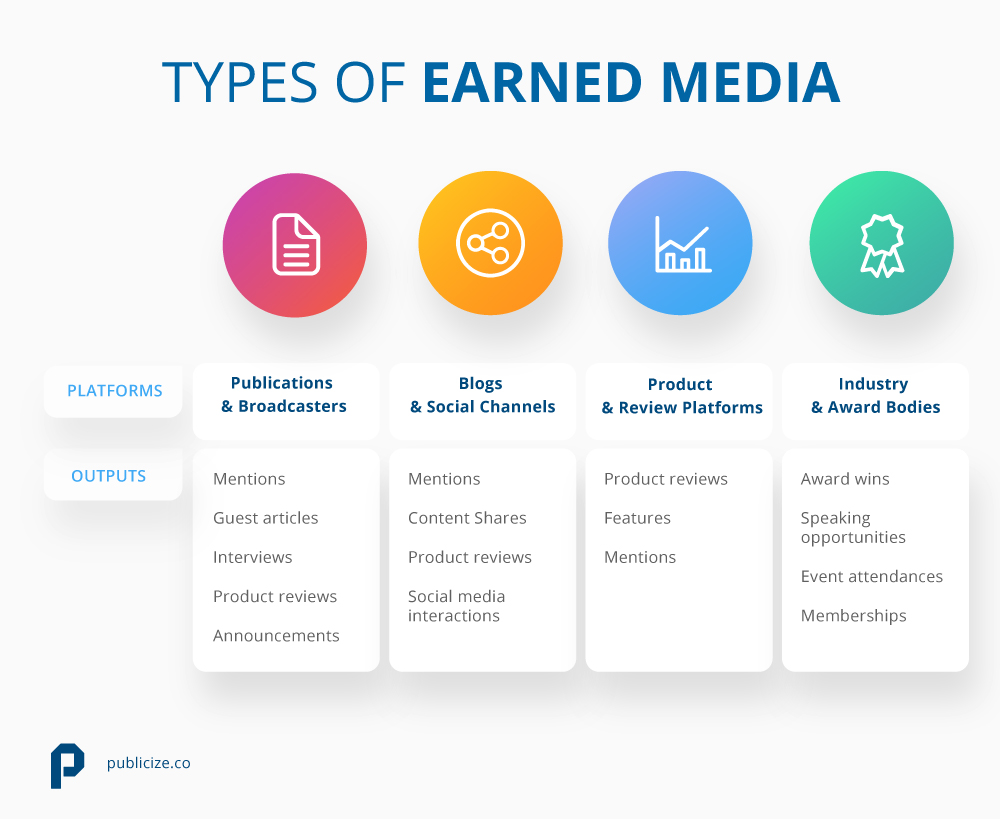 Why Is Earned Media Important
Earned media, for example, plays a pivotal role when it comes to securing the prosperity of your lead generation efforts.
According to a recent survey, almost 40% of U.S adults have installed ad-blockers on their computers, making it harder for advertisers to reach potential customers. Such a scenario raises the question: what can brands do to properly connect with their audiences and consumers if traditional ways such as online ads are less effective? The solution, as described in the first paragraph, is combining different types of media. Earned media, for one thing, has not been used to its full extent simply because companies think that measuring its real ROI is somewhat complicated; however, that's no longer the case.
Generally speaking, audiences trust when a well-respected journalist, blogger or influencer directly addresses a brand —that single piece of earned media has the potential to reach a much wider audience and, why not, other potential customer segments that were not initially considered by the brand in question. The most important takeaway? Digital ads cannot compete with such a tremendous level of trust.
And Why Does It Matter?
For a startup or any other business to succeed, their target consumers need to be aware of them. But more than that, they need to be seen as credible
Businesses can't buy credibility via paid media. Online ads and PPC campaigns will certainly raise awareness about your startup or company and drive traffic to your website, but as soon as you stop paying for those services they disappear, and conversion will be difficult to achieve without the trust and credibility of the platforms and the outputs shown in the infographic above.
In fact, research shows us time and again that consumers and the public trust earned media way, way more than paid media. A Nielsen survey (from a couple of years back) reports that 92% of consumers say they trust earned media, while only half trust paid media.
And if your product hasn't yet hit the market as you're looking for funding, paid media cannot be utilized to drive awareness or credibility. In this instance, earned media is the only effective means of doing this.
Then there is the SEO benefit. If you want your site on page one of Google for popular search terms, you have to build up your backlink profile. Google's link scheme guidance makes it crystal clear that the more nefarious link building schemes of yesteryear are no longer acceptable. This means sites have to earn natural backlinks for them to be given any weighting by Google. And backlinks won via earned media are increasingly being seen as one of the best forms of link building within the SEO community.
Are there downsides?
Of course, we can't claim that earned media has zero negative aspects. Professional and consumer reviews can be negative as well as positive, and no company is immune from a PR crisis. You have to accept that you're relinquishing control with earned media. A journalist may miss the narrative you were trying to hit, or your pitch may not be picked up at all.