If you want to listen to the audio version of PAID, OWNED, AND EARNED MEDIA IN 2020, press play here.
A recent survey revealed that one-third of Americans are online all the time. Your target audience – and the world – is nearly always plugged into 'The Matrix' (a reference for the kids).
This is the decade of digital PR.
This shift online has made content marketing one of the most effective ways of reaching your customers and driving qualified leads for your business. However, one of the frequent mistakes a lot of companies make in this practice is targeting one type of media over another.
Let's get this straight:
An effective content strategy doesn't rely on one singular tactic.
To be successful, you need a mix of:
Paid media
Owned media
Earned media
Shared media
Most marketers know the answer to the question: 'What is the difference between paid, owned, and earned media?', but it's a bit unclear to others.
That's why we've created this guide. In 'The Complete Guide to Paid, Owned, And Earned Media In 2020', we'll cover:
What is paid media?
What is owned media?
What is earned media?
What is shared media?
How to measure paid media
How to measure owned media
How to measure earned media
How to measure shared media
Different media predictions for 2020
Let's get into it.
What is paid media?
Paid media is the simplest to explain.
Paid media refers to any content you pay to promote. This is often referred to as sponsored content.
In the days of traditional PR, this would have been through TV adverts, print advertising, or radio commercials. However, the game has changed. In 2020, marketing and PR have shifted online and so has paid media.
Here are some examples of the different paid media you can utilize:
Social media advertising – Social media advertising, sometimes referred to as social media targeting, is something that startups need for an effective social media marketing strategy. Social media advertising allows you to target social media users in a way previously unimaginable. And with over 2.5 billion people using social media, why wouldn't you use it? The channel you target depends on your product or service and target audience. For example, if you're an extremely visual company, you might use Instagram as the cornerstone of your social media ad targeting.
Pay Per Click (PPC) advertising – Commonly known as PPC, this is a form of internet advertising in which companies pay a fee each time their ad is clicked. This form of advertising is usually seen on search engine sites. If you're unsure of what we mean, this image will jog your memory:
Video ads – Advertising that occurs before or after a video stream begins.
Pop-ups – Pop-ups are usually a small window that appears within a few seconds of entering a site.
Display ads – Similar to a pop-up, but display ads usually differ in size and placement within a website.
Paid media can now be more targeted towards your audience or buyer persona (the higher your budget, the more effective that targeting is).
PRO TIP: Paid media can be great for driving traffic to your site. However, it's reach and effectiveness can be limited. A lot of this is due to the increasing use of ad blockers. Organic media's reach can't be limited by ad-blocking plugins. Furthermore, it's a better way to build consumer trust around your startups.
What is earned media?
Earned media is arguably the cornerstone of PR.
Earned media is any material that is written about you or your business that you don't pay for. To put it simply, earned media is publicity.
As earned media is owned by third parties, you may be thinking that earned media success is entirely out of your hands. However, that's not true. If you produce good content, the (earned media) world is your oyster.
Here are some practices you can incorporate when trying to win earned media:
Make the best quality content possible – This is a no brainer. Your startup should always be aiming to produce content that addresses common pain points among your target audience. This will help position you as a thought leader within your industry. In addition, it increases your chances of your guest blog pitches being accepted and of users sharing your content on social media.
Use HARO or press request sites – HARO (also known as Help A Reporter Out) is a tool that journalists use to get expert quotes or sources for their stories. If you find a news story that's relevant to your startup or industry, submit a response and you may win earned media. However, there are a couple of drawbacks to using these sites. Competition is fierce and you have to sift through A LOT of emails. Although, by preparing yourself with some quick response templates and learning how to filter requests, you'll increase your chances of winning publicity.
Choose the right publication – Producing, pitching and sharing content takes time and energy. Therefore, you want to ensure that your earned media wins are targeted towards publications relevant to you. For example, if you're a fintech startup, you're not going to be chasing up Vogue for a guest article. The next decision you want to make is whether you want to target top tier publications or niche industry publications. Check out this image below to weigh up the differences: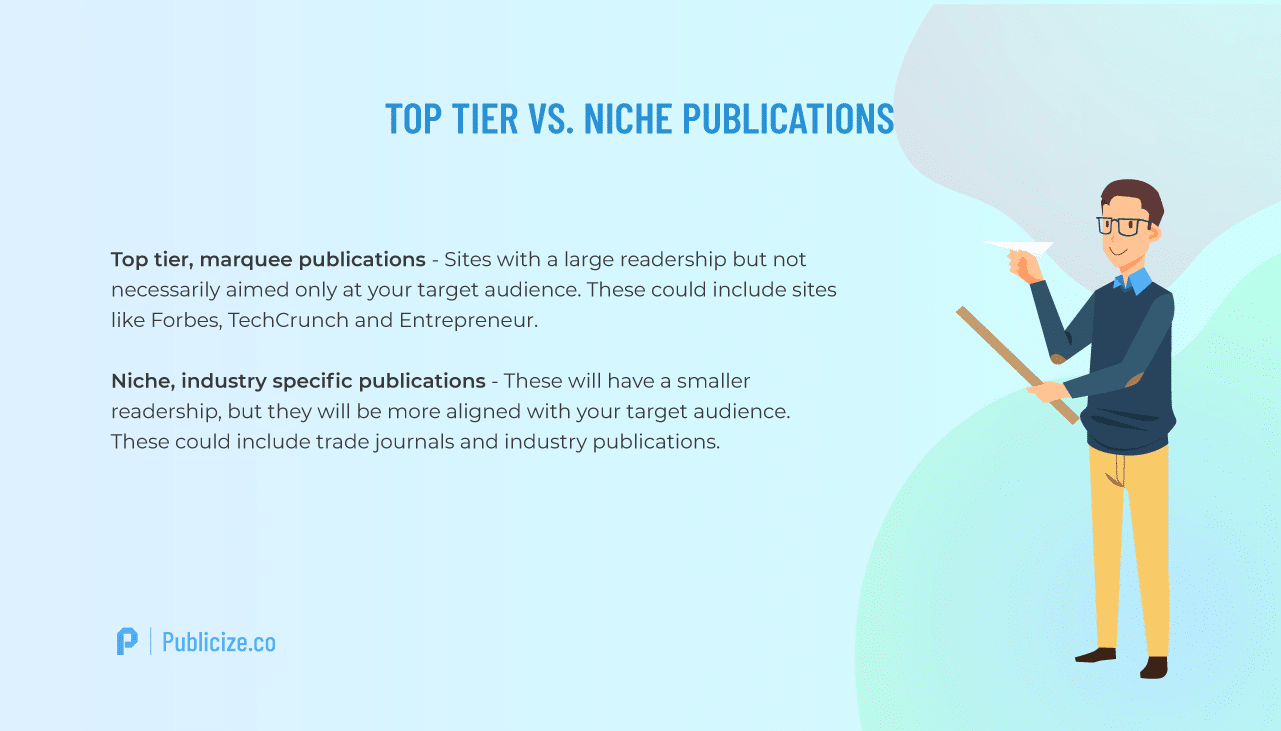 Earned media can be won wherever companies see fit.
However, if you want your earned media strategy to incorporate the best PR practices, you need to plan where you want to win media coverage and what those earned media wins look like.
What is owned media?
Owned media is any content that you create yourself and publish on your own channels.
Unlike earned media, you have complete control over this form of content creation.
Unfortunately, owned media is frequently treated as a promotional exercise or not taken as seriously as paid or earned media.
However, it can't be stressed enough that you cannot neglect any of these forms of media.
Not convinced about the benefits of owned media? Here are some bonuses that'll change your mind:
Although, in order for your owned media to be worthwhile, you need to ensure the content you produce is valuable, educational, and not overly self-promotional.
Here are some examples of the different owned media content you can produce: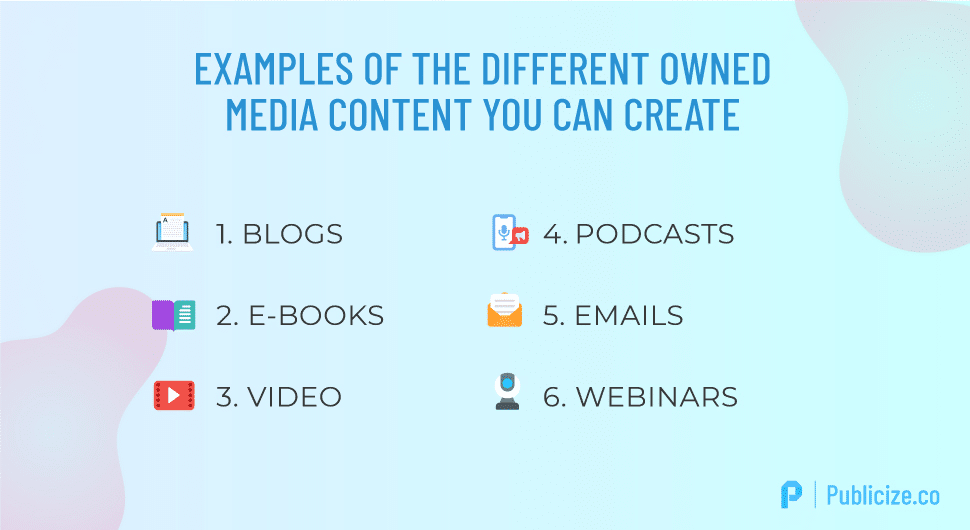 What is shared media?
Shared media refers to social media or user-generated content.
Since the emergence of social media as a PR tool, shared media has become increasingly popular.
Why?
It's extremely cost-effective and gets you in front of your actual target audience (followers on social media).
PRO TIP: Due to the recent algorithm update on Facebook, it's harder for posts from businesses to be seen organically. Much in the same way you need a combination of paid, owned and earned media, you need a combination of organic and paid posts when it comes to social media marketing.
The PESO Model
For the marketing professionals out there, this probably looks awfully familiar to you.
The PESO model is the shorthand for combining paid, earned, shared and owned media.
The brainchild of this model was Gini Dietrich, author of Spin Sucks:
As you can see, all four of these exist symbiotically, and for your PR and marketing to succeed, you need to align them.
In the next section of the guide, we're going to cover the ways in which you can measure these different types of media.
How is paid media measured?
There is a plethora of different metrics you can choose to measure your paid media success.
However, before you make any decision on what metrics you measure, it's worth defining your business objectives.
This isn't limited to paid media — it's true for all media in the PESO model.
Here's a handy image which outlines how your media goals and business objectives influence each other: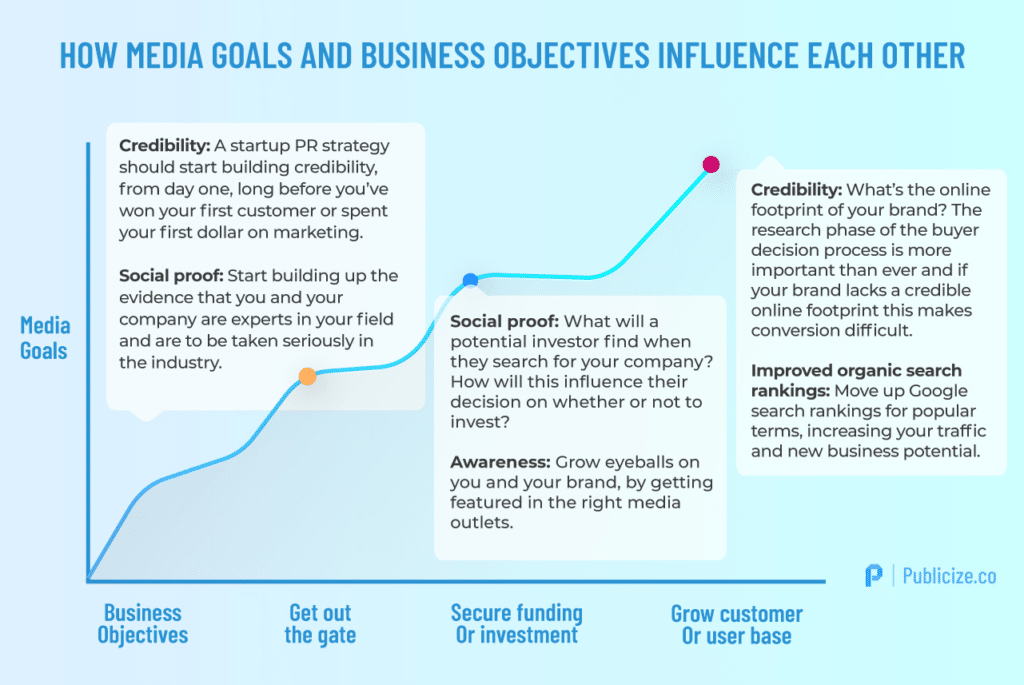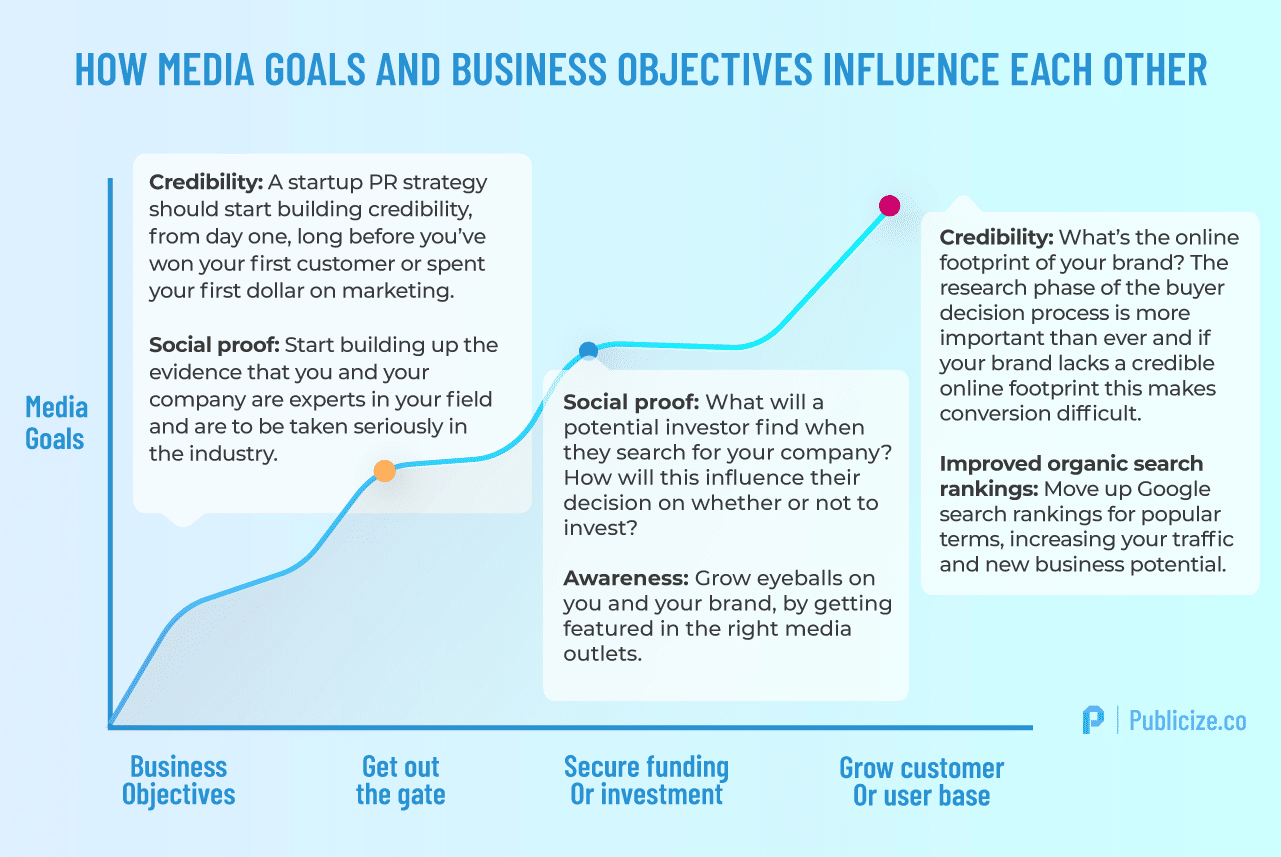 NOTE: Before you start splashing big bucks on paid content, you need to build credibility. And, as we've mentioned before, this can only be done through organic content.
If you promote content on social media, you use the various analytical tools built into those channels. Facebook, Twitter, LinkedIn, and Instagram all have their own analytics. However, there are a bunch of other social media analytics tools out there.
If you're using PPC ads, Google Adwords allows you to measure the performance of your paid Google campaigns.
Moreover, Google Analytics splits paid search, paid social and display into separate channels. This gives you the power to track which paid campaigns increase traffic to your site and results in new leads and opportunities.
How is earned media measured?
In the past, earned media's impact was extremely difficult to measure.
PR firms had limited ways of showcasing the success of earned media strategies and companies lacked concrete evidence to make PR a priority. However, the shift towards online PR means that's all changed now. And, we hope, businesses realize the benefits of PR (and earned media!)
Still not convinced? Here are five of the main benefits of earned media: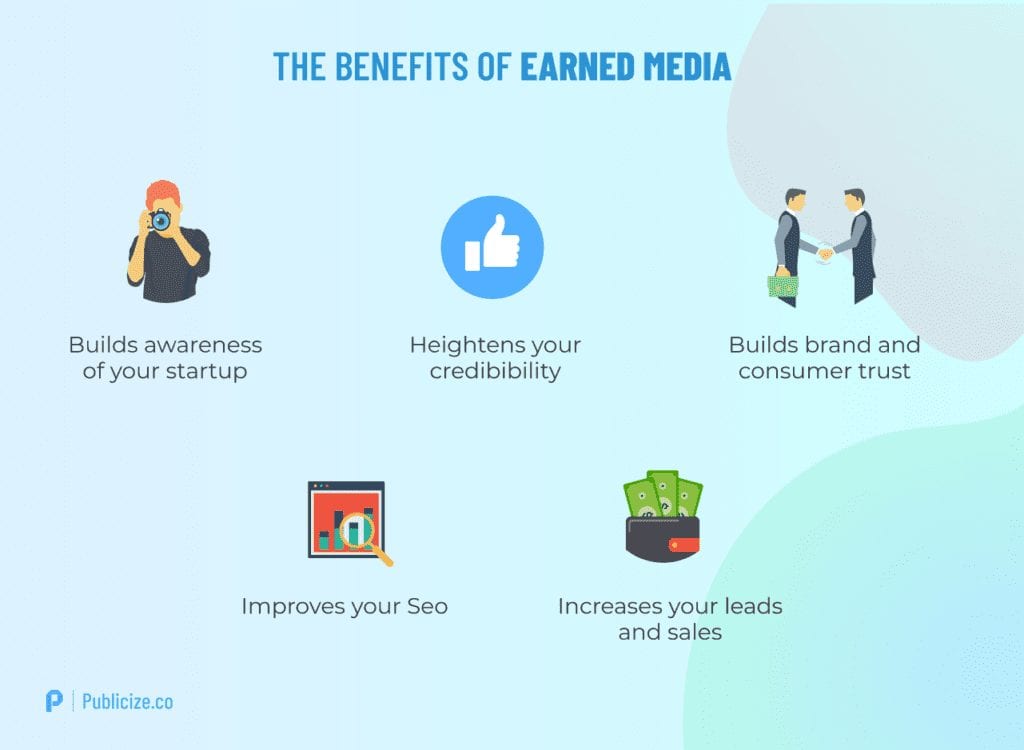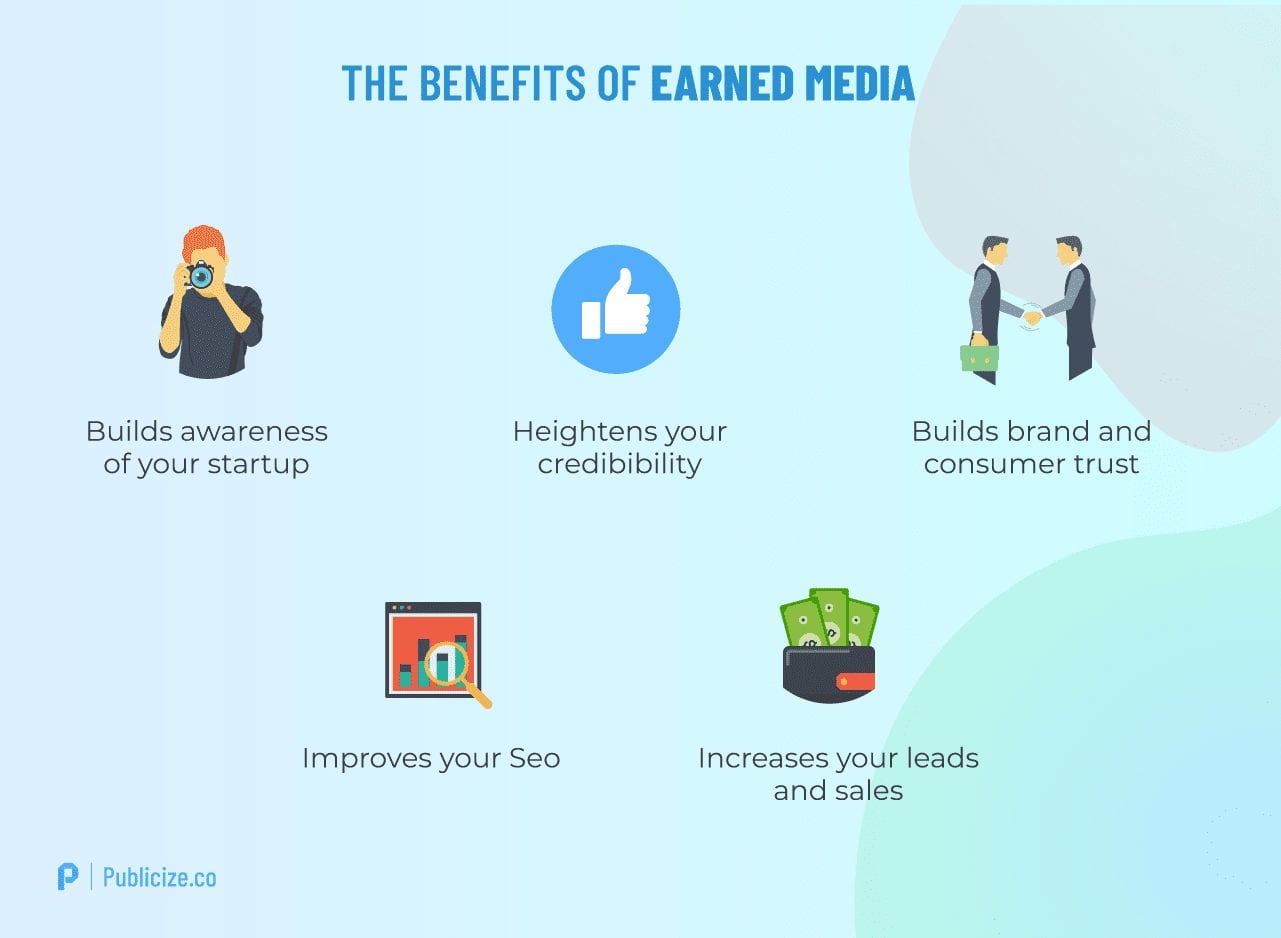 "So how do I measure earned media wins?!" We hear you cry. Steady on, we're getting there.
These are a couple of metrics we believe you should track when deciding on your earned media KPIs:
Website Referrals – Referral traffic under Google Analytics acquisition tab may reveal website traffic from media placements. However, that all depends on whether the online publication included a backlink to your website. Although, many PR pros will credit a key earned media win for a rise in traffic – even without a backlink.
Mentions – Google Alerts is a good (and free!) place to start when it comes to media monitoring for your company. However, if you want to get more in-depth, Glean and Meltwater offer paid subscriptions.
How is owned media measured?
The way you measure your owned media depends a lot on the type of content you produce and its purpose.
For example, you may be using your site's blog content to drive new users into your website. If that's the case, you would be looking to measure the amount of traffic entering your website through your blog.
However, your keystone documents (such as ebooks and white papers) may be gated content. This content's sole purpose is to get people to enter their details and then convert into new leads. Therefore, the metric you'd want to measure is goal conversion rate – the ratio of page views to downloads.
How is shared media measured?
We have previously mentioned the various analytical tools provided by different social media channels.
These are essential when tracking the effectiveness of your shared media.
You want to have a good overview of the level of engagement users are having with your organic social media content. In addition to this, you want to monitor what people are saying about you in the mentions, replies, and comments on the different social channels.
Shared media is a little tricky to measure, as the different platform's algorithms decide how visible your content is to your followers. However, if you draw a social media plan that incorporates the best social media practices, you can gradually build your exposure.
Different media predictions for 2020
We hope that this guide has given you a clear definition of all the different types of media content your startup needs to produce.
So, what does the future hold for these different types of media?
We stared into our PR crystal ball to give you our big predictions for each form of media in 2020.
Paid media in 2020
We briefly mentioned Pay Per Click ads when defining paid media.
We believe that due to consumers increased use of search engines, the percentage of marketing budgets allocated towards PPC will increase. Furthermore, these PPC ads will more frequently target businesses in social media accounts.
Mark our words, ignore social media PPC ads at your peril! (Sorry for being dramatic.)
Earned media in 2020
In 2020, earned media successes for businesses are going to be found in smaller, more niche publications.
A media win in a HUGE publication is all very well for a CEO looking to stroke his or her ego. However, an earned media win in a smaller publication specifically rooted in a company's niche, and one that is consumed by their target audience is so much more valuable.
Furthermore, as the internet becomes more congested and the public consciousness for news stories gets shorter, you need media wins that will stand the test of time.
Going viral is not going to be a successful PR strategy in the '20s.
Owned media in 2020
If you're looking to be successful with your owned media strategy, it's time to start focusing your energy on multimedia content.
Informative guides (like this one) are all well and good, but people's way of consuming information is changing.
Millennials and Generation Z are consuming media in different ways. For instance, 46% of podcast listeners are under 35, and 55% of people view online videos every day.
With that in mind, we're predicting an increase in multimedia consumption. In addition, businesses will invest heavily in their own video output and producing their own podcasts.
Speaking of podcasts, we have one! Give 'The Loudspeaker' a listen for more PR and marketing insights
Shared media in 2020
Shared media is also set to undergo a video revolution in 2020.
This is due to the overwhelming popularity of the short-video-fuelled social media platform, Tik Tok. It was the most downloaded app on the Apple Store in 2019. In 2020, the other social media channels will want a share of that market.
Therefore, we predict that there will be a growing number of short video social media channels and that businesses will start creating shared media content in this image.
Wrapping things up…
One thing is for sure, though. Whatever does come to pass in 2020, producing a variety of different types of media will always be key to a startup's success.
If you're at the beginning of producing media, this is an exciting time.
The new decade of digital PR opens small businesses up to earned media opportunities that were previously unavailable. Furthermore, the power of technology means that you can produce a wide variety of owned media content.
As a result, it's never too early — or too late — to start using PR to build a credible reputation for yourself.
Sure, you will need paid media at some point. However, in an age where only 10% of startups succeed, you need to build your public image before broadcasting yourself to the world.