If you thought social media was just for looking at cat videos, sending regretful messages at 3 am, or procrastinating once it hits 4 pm – you're so wrong.
Speaking from a marketing and PR perspective, social media can be an invaluable weapon for your startup's prosperity and growth. Furthermore, unlike other forms of marketing and PR, social media allows you to interact far more directly with your audience.
With that in mind, we've put together this guide to help you combine social media and PR. It includes:
Why use social media?
What is social media PR?
How you can use social media as part of your PR
What social media should your startup use?
Why use social media?
Social media provides a seamless ability to share photos, opinions, events, etc., all in real-time. This has revolutionized the way we interact in our personal and professional lives.
Not convinced of social media's impact?
Well, consider this mind-boggling statistic. 77% of North Americans own at least one social media profile.
Furthermore, the widespread usage of social media is only going to increase. The 'customers of tomorrow' (or millennials) use social media the most. In fact, 90% of teenagers access social media at least once a day.
If the increased exposure to a previously untapped audience isn't enough of an incentive for you to use social media, then also consider these benefits:
Faster and Easier Communication – this is great for both you and your customers. Customers can reach you easier than ever before and you'll be able to receive, review and respond to customers faster and easier than ever before.
Boosts Organic Visibility – Social media is also great for SEO. Not only does it get more eyes on your business – which helps you rise up Google's rankings – it also sends relevancy signals to Google to ensure that popular content is easy to share.
Increase In Website Traffic – Social media's ability to reach different audiences in a fun and personal way can lead to an increase in site users (if done correctly)
Branding – The impression your business gives off and the reputation it builds can be greatly enhanced and showcased through social media.
Considering these factors, it would be a PR own goal if your startup didn't incorporate social media into your PR and marketing goals.
Social media PR
What is social media PR?
Social media PR can be a weird concept for most people to get their heads around…
Where is the media gatekeeper?
Where are the messages broadcast?
There aren't the traditional earned media wins there are with most PR. That's true. However, there are likes, retweets, comments, and – most importantly – shared content.
Social media public relations is not about creating news.
It's about planting the seed and then trying to help it grow through natural, organic, and personal referrals.
How's it changed PR?
Social media has had a huge impact on PR. Social media is a very informal method of communication and has become the 'voice' of the brand.
Furthermore, it's blurred the lines of marketing, PR, and customer service. Social media channels have become a one-stop-shop for all of these.
How so?
Well, Facebook business pages are now used for:
Promoting new products and services
Advertising
Making company announcements
Engaging with customers
Addressing customer comments and complaints
Although being able to address users' complaints or negative comments quickly is good for PR, social media PR is definitely a brave and challenging new reality.
Why should you take social media PR seriously?
The public and open forum provided through social media has made information more readily available and broken down communication barriers. Therefore, you wouldn't be wrong to assume that there's now less of a need for PR.
Well, sorry to be blunt, but you're wrong.
Social media has made it easier than ever before for people to voice their opinions and alter someone else's perception – often in less than 140 characters. As a result, suspicion and distrust towards businesses has increased. 72% of people believe CEOs are less trustworthy than their employees. PR is designed to fight this distrust.
Secondly, competition for tech startups is at an all-time high. Whether you're in fintech, SaaS, or blockchain, tech markets are now oversaturated with fresh-faced startups with new innovations and the desire to make big bucks. As a result, 90% of startups end in failure.
Ignore social media and PR at your peril!


How to use social media for public relations
OK, now you need a game plan.
As we touched on, social media and public relations is not as well signposted as other strands of PR, such as digital PR or tech PR.
Fear not, here are some social media PR tactics you can start using straight away:
Find influencers within your niche
Consumer trust is at an all-time low. Considering the current climate, it's surprising that consumer trust in social media influencers is on the up. With as many as 49% of consumers depending on influencer recommendations.
First off, let me define what an influencer is.
An influencer is an individual who has the power to affect purchase decisions because of his/her knowledge, authority position or relationship with their audience. These tastemakers are not just your run of the mill celebrity. They could also be:
YouTube vloggers
Instagram models
Facebook 'top fans'
Twitter influencers
CEO's or business owners who have a large LinkedIn following
Now let's quickly clear up a common misconception. Influencer marketing more often than not falls under the umbrella of paid media. This is different to earned media, which is the end goal of PR.
What's paid media?
Paid media is any form of advertising which is paid for directly. Therefore, when a company pays an influencer to plug their product, this is advertising via social media, rather than social media and public relations.
So while the bulk of influencer endorsements isn't strictly social media public relations, interacting with social media influencers still serves a PR purpose. For example, you could gain retweets and shares of your content or even a guest posting spot on an influencer's websites at no cost.
Network with journalists
Social media can be invaluable when you're looking to build relationships with different journalists. If you're going to pitch to journalists before establishing any kind of relationship with them, you'll often be knocked back.
However, using social media you can follow journalists from relevant industries and share and praise their work. This is something that's only been made possible due to social media.
If you're going down this route, remember to be polite and keep it personal. However, don't start randomly liking their photos. That's just straight-up creepy.
React to negative press
PR has long been a useful tool for companies needing to manage media backlash. In PR circles, this is referred to as 'crisis management'. This is where PR professionals use their expertise and contacts within the press to quash negative coverage.
Yes, if you're a fresh-faced new startup, it's unlikely you've received much press – let alone experienced the media sharpening and aiming their pitchforks at you.
However, if this does happen, pr and social media gives you the opportunity to put out the fire yourself.
Previously, you would have had to send out a press release or write leaders to newspaper editors responding to the accusations. Now, social media allows you to share an official statement, blog post or press release across your channels.
Respond and communicate to your target audience in real-time
Social media's instant communication allows you to respond to your target audience in real-time.
This is great for a few things:
Forming relationships
Showing your business's human side
Replying and dealing with complaints or negative comments
This two-way communication between you and your customers was previously limited. Therefore, this is rather revolutionary from a PR perspective.
Furthermore, it's more evidence of the lines between PR, marketing and customer service becoming increasingly blurred due to social media.
Make company announcements
Social media allows you to share your company announcements and news to your followers. Furthermore, if this is shared multiple times, your reach is even larger than that.
This is partially why some people believe that press releases are becoming obsolete.
While we don't share that sentiment, we definitely believe that social media can be used alongside press releases in order to broadcast your news or events to more people.
Social media also allows you to invite people to events or conferences you are hosting or attending, too.

Which social media channel is best for your PR needs?
OK, so now you've seen some of the ways you can integrate social media into your PR efforts, we're taking a deeper look at the 5 different social media channels: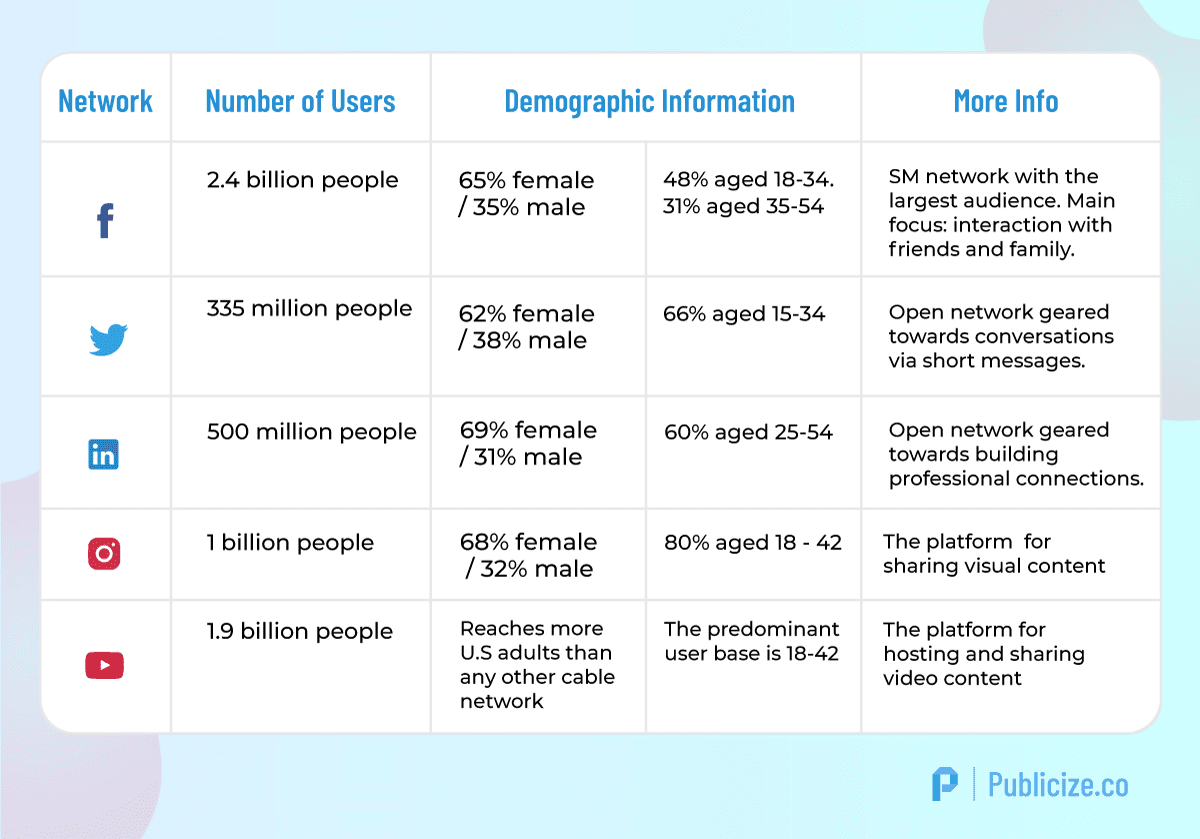 Each social media platform can be used in its own unique way to assist in PR.
Here are some examples of how each of these channels can be used to add value to your PR plan:
Facebook – If the company or brand is very conversational, this is the place to go. Leverage Facebook functions such as groups, mentions, call to action buttons and other Facebook Professional Services tools to assist with PR activities.
Twitter – With its 140-character limit, it's the best way to send a quick message about a new launch, activity, or promotion, or to provide any kind of update. Using hashtags is a great way to reach people and also to track what your audience and others are saying about your company or brand. Twitter has various ways to conduct research on your company, brand, competitor, and more. In addition, its app, Periscope, is a great way to live stream and connect with an audience.
LinkedIn – This is another great way to connect with people, especially influencers, gain industry insight and circulate relevant information. It is also a great tool to utilize for blogging.
Instagram – This platform is a great way to engage with your audience. Visuals are excellent for showcasing worthy causes and bringing awareness to serious issues. In addition, Instagram is great for promoting events (before, during and after) to keep the audience engaged and feeling as if they are a part of the event, even if they are not.
YouTube – Videos are on the rise. Furthermore, when looking to learn about a subject, millennials frequently turn to 'how-to videos' with text on them. Therefore, if you have a lot of difficult to grasp concepts or are in an industry that people find hard to get their head around (e.g. Blockchain) YouTube may be a great social channel to focus your PR efforts towards.
After reading this, you'll probably have a clearer vision of the social media channel best-suited to your PR strategy.
However, whichever one you think is the most aligned with your target audience, you should still aim to incorporate all of them as part of your marketing and PR strategy.

Wrapping up…
Social media is no longer an option for your PR efforts, it's imperative.
With this in mind, we'd recommend that you consider some of the tips we've included in this social media PR guide and choose the channels that are best aligned with your target audience. And ensure you have a social media strategy that correlates with your PR goals, too.
---
Chat With Our PR Specialist!
Interested in finding out more about how we can design a PR strategy to support your business goals? Send us a note using the below form and our PR specialist will be in touch to arrange a chat.